From Pain to Promise
'Journeying together in Hope'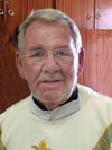 Tony is from Dublin, but has worked in many
places throughout the world. He will tell of his struggle in a humorous and hopeful way as a priest and Christian in a believing community.
His talk at the Matt Talbot Novena in Nenagh,entitled "Be a good boy and take your medicine" was very warmly received in November.