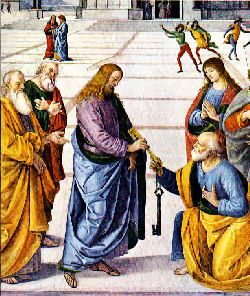 As a young family were on their way to an engagement party, mother was trying to explain to her small children what it was all about. After a few minutes silence the little five year old spoke up. "Mammy, that's what you and Daddy did. You had an engagement party and then you got married".His father said to him: "Son, how do know that? The little boy answered: "I know because that's what you do"
When Jesus asked his disciples the question: "Who do you say I am" Peter proclaimed that Jesus was the Messiah, the Son of God. Jesus didn't ask him how he knew but told him that he could never know that, if God had not revealed it to him.
From our own experience we know that the same question is asked of us at different times in our lives.
It might be good to reflect:
Who was Jesus for me on my First communion day?   Who was Jesus for me when I was a teenager.
Who is Jesus for me when I go to work?   When I'm out of work? When times are good and when times are not so good.
Who is Jesus for me in times of joy and in times of sorrow and sickness.
Who is Jesus for me as a mother or as a father, as a priest or as a religious.
Even though Peter proclaimed Jesus as the Son of God, his faith wavered from time to time. Our faith will waver too. But Jesus says to us what He said to His disciples, "Have courage, come to me, do not be afraid, I am with you always".
Jesus I believe that You are the Messiah,
the Son of God and I place all my trust in You.