God Faith and Me – Year of Faith Talks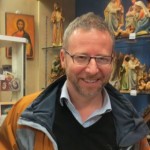 The Abbey Cluster are hosting a series of talks to mark the Year of Faith. They will take place on the last Wednesday of each month starting on the 28th November. This year marks the Year of Faith and in launching this Year of Faith Pope Benedict  said 'The "door of faith" is always open for us, ushering us into the life of communion with God and offering entry into his Church. It is possible to cross that threshold when the word of God is proclaimed and the heart allows itself to be shaped by transforming grace. To enter through that door is to set out on a journey that lasts a lifetime. God, Faith and Me is a series of talks that aim to explore questions about God, questions of faith, and what we believe in through talks and discussion.  During this Year of Faith it is an opportunity for all of us to look at our faith, talk about it and share it with others. These talks will take place in St. Flannan's College, Ennis on the last Wednesday of the month at 7.30pm. All are welcome.
The first speaker will be Dr. Dan O'Connell who lecturers in Religious Education in the Department  of Learning,  Society and Religious Education, Mary Immaculate College, Limerick and Dan is also a member of the Parish Pastoral Council in Ennis.