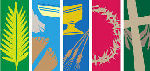 Reflection on the Sunday Readings each Thursday during Lent, 8pm, Cathedral Hse.
Come and nourish your inner lives with The Word of God.
Lenten Reflection Booklet on the Sunday Gospels, by Sr. Marie McNamara;
available in Cathedral porch
Praying with the Great Artists: Gathering each Mon to pray on our Faith Story, using some of the great artists;
St. Joseph's Meeting Room;  3-4pm.  Sr. Cecilia: 086 2442468.