An Ennis Camino – Latest booklet from Clare Roots Society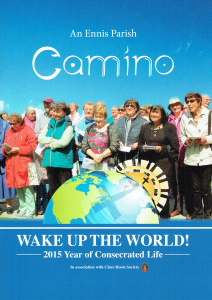 Clare Roots Society this week launches their latest booklet in Ennis Shops with the publication of An Ennis Parish Camino.
Pilgrims from all over the world have walked the Camino de Santiago in Spain. To mark the 2015 Year of Consecrated Life in the parish over the years, the Parish of Ennis, had its own 'Camino' journey of pilgrimage on the first Sunday in June 2015. The booklet written by Sr. Canice Hanrahan rsm puts to print the details associated with the journey from Corrovorrin in the north to Cahercalla in the south of the town and recalls the events from 1240 to the present.
The journey begins with the arrival in Ennis of the Ursuline Sisters in January 1829 and continues the journey with details of the arrival and stay of the Presentation Sisters of Galway, The Little Sisters of the Assumption, the Mercy Sisters, Presentation Brothers, Christian Brothers, Franciscans, Poor Clares, Brothers of Charity, Diocesan Priests, Sisters of St. Josephs of the Sacred Heart, La Sainte Union Sisters, Missionary Society of St. Columban, St. John of God Sisters. On our journey we visit the locations associated with these religious orders.
Within the walk we read about the work of Clare Social Services, the Mercy Sisters association with the workhouse and primary and secondary education in the Town, the Christian Brothers arrival in Ennis setting up their school in the old corn store prior to their permanent home at New Road and many more.
The booklet is on sale at €4.00 at Ennis bookshops and Ennis Parish Office