Ennis Parish Pastoral Council
John Tunney, is Chairperson of the Parish Pastoral Council
 John Tunney, Elm Park takes over from Sarah Malone as Chairperson of the Parish Pastoral Council. John hales from Letterkenny, Co. Donegal and is married to Ennis native Mary Murphy.
We acknowledge and thank Sarah for her leadership and time over the past 3 years. We wish John well for his term.
Mission Statement
As a leadership group, the Parish Pastoral Council, trusting in the Holy Spirit encourages and enables the members of the Ennis parish to use their gifts in pursuit of the mission of the Catholic Church so that:
 ¨ The Gospel of Jesus Christ is proclaimed,
¨ The Sacraments and Liturgies are celebrated in a meaningful and participative manner,
¨ Prayer is fostered,
¨ Education, evangelization and faith development are encouraged,
¨ There is a sense of welcome and belonging that helps all people feel loved, cherished, and accepted as part of Christ's body, the Church,
¨ Equality, justice and peace are promoted.
In our interaction with people in the wider community of other faiths and world views, we endeavor to use as our model, the openness, tolerance, respect and love of Jesus Christ.
 Structure of the Pastoral Council
To assist in this, a number of groups have been set up to address specific needs.  The Pastoral Council co-ordinates the work of these goups, each of which has a representative on the Pastoral Council, as does the Parish team and the Franciscan Community.  The members of the Pastoral Council and the groups they represent are: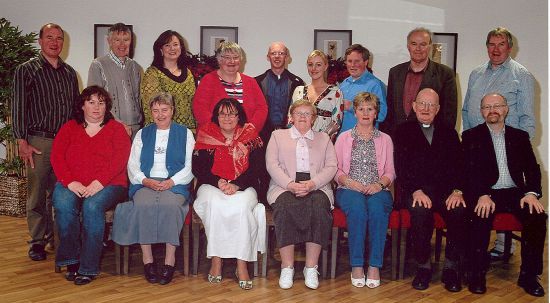 John Tunney, Chairperson of the Parish Pastoral Council.
Mary Hanley, Secretary Pastoral Council.
Sr. Ann Boland (Visitation Group)
Fionnuala Moran, Noel Howard (Finance Committee, Connect Group)
Fr.Fergus  Mc Eveney OFM (Education Group, Franciscan Community)
Maurice Griffin (Perpetual Eucharistic Adoration)
Fr. Tom Hogan (Communications…Adm. Cathedral)
Fr. Tom O'Gorman (Adm. Cloughleigh)
Fr. John Mc Govern (Adm. St Joseph's Church)
Tina Queally, Chairperson, visitation group
Tikki Daly (Connect Group)
Donal Griffin,Chairperson Finance committee
Sarah Malone,
Sean Mc Dermott
Canon Pat Taaffe
Sr. de Montfort
Sr. Betty Curtin
minutes-of-pastoral-council-meeting-sept-25th-2012
minutes-of-meeting-26th-june3
minutes-of-ennis-pastoral-council-meeting-dec2011
minutes-of-25th-october-2011
minutes-of-ennis-parish-pastoral-council-meeting-held-on-27th-september2011
pastoral-council-may-2011
pastoral-council-march2011
minutes22nd-feb-2011
minutes-of-26th-january
minutes-of-meeting-feb-23rd
ennis-pastoral-council-minutes-march
minutes-november-30th-20101
Parish Team
The following comprise the Parish Team.  Each person is responsible for a particular geographic/pastoral area of the Parish – -   Fr. Tom Hogan, Administrator Cathedral;  Fr. Ger Fitzgerald, Sr. Ann Boland, Sr de Montfort, Fr. John Mc Govern, Adm. St. Joseph's; Fr. Fergal O'Neill,Fr. Tom O'Gorman, Adm, Cloughleigh, Fr. Pat Taaffe, Sr. Betty Curtin.
Area Connect Groups
There are 6 area councils/connect groups, one in each of the Pastoral Aeas.  Each group has about 10 members, representative of the Community.  The role of the Area Connect Groups is to make the connection between the Pastoral Council and parishioners and to help build community by getting people more involved in Parish Life.  Between 50 and 60 people are involved in Connect Groups.
> Area A: Fr. Fergal O'Neill and  Sr. de Montfort.
> Area C: Fr.Ger Fitzgerald, Fr. Pat Taaffe, Sr. Anne Boland, Margaret Lynch and Tikki Daly
> Area D: Fr. Tom O'Gorman, Sean Mc Dermott, Benji Mbllezor
> Area E: Fr. Tom Hogan
> Area F: Fr. John Mc Govern and Fionnuala Moran
Parish Visitation Group
The Visitation Group provides another link between those working the parish and the community.  Members of the group visit houses, just to say hello, have a chat and provide information on Parish activities.  Fourteen people are involved in this ministry co-ordinated by Sr. Ann Boland.
Finance and Property Committee
The Finance Committee comprises seven people and its function is to plan, control, record and manage all finances of the parish.  Contact Fionnuala Moran.
Communications Group
The brief of the 5 members of the Communications Group is to let people know what is happening in Ennis Parish and invite them to get involved in the life of their church. Contact Fr. Tom Hogan.  For the latest updates, see the Communications Group in the Groups section of the website
Eucharistic Adoration Group
This group represents over 600 people who do a committed hour before the Blessed Sacrament each week.  Coordinated by Maurice Griffin, you can read more about the Eucharistic Adoration Chapel here
Franciscan Friary
Fr. Fergus Mc Eveney OFM represents the Franciscans on the Pastoral Council