There are approximatley fifty members in our Baptismal Team.                                                                                                                         
Five members of this team are assigned to one month. Each month has its own co-ordinator.
There is an over all co-ordinator who liases with the monthly co-ordinators and informs them of the Baptisms for each month.
All co-ordinators and team members visit families who have children for Baptism.The purpose of this visit is to explain the Sacrament to the parents.  New members for the Baptism Team are very welcome.  Call Sr. Madeleine at 065 6824043 or 065 6828024.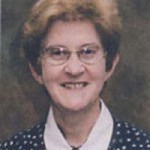 Sr. Madeleine, Baptismal Team Co-Ordinator.