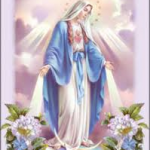 We encourage you to pray the Rosary, (even one decade), particularly these weeks of May.
Rosary in Corrovorrin Crescent each evening at 7pm.
Rosary at Claremount Grotto, Clarecastle, 8pm each evening.
Rosary St. Michael's Villas Grotto 7pm daily.
Rosary small green in Gallows Hill 7pm each evening.
Rosary Buttermarket Grotto each evening 7pm.