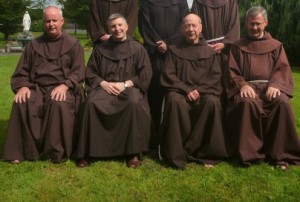 Fr. Liam Kelly (appointed to Ennis in 2008, Guardian of the Friary 2011-2014) has been appointed as chaplain to Gormanston Franciscan College, Meath. Fr. Liam has been involved in school chaplaincy in Ennis National School, Ennis Community College and Ennistymon CBS. He has been spiritual assistant to the Secular Franciscan Order in Ennis since 2008.
Fr. Feargus McEveney (Appointed to Ennis 2005) is now appointed Guardian in Rosnowlagh. Fr. Feargus has been involved in chaplaincy to Cahercalla Hospital and has served on the Parish Council in recent years.
Fr. Seamus Donohoe (Appointed to Ennis 2005) is now appointed to Athlone friary. He has been involved in hospital chaplaincy in the County Hospital and in frequent visits to the sick in Ennis. He has helped administer St. Anthony's Hall and St. Francis' Hall, facilitating many groups over the years.
Brother Stephen O'Kane (appointed to Ennis in January 2013) is now appointed to Merchant's Quay Friary Dublin where he will work as Bursar and director of the Franciscan Missionary Union.
 The Friars leaving Ennis for new appointments thank the people of the town and the county for their kindness and encouragement over the years. May the Lord give you the gift of peace and reward you richly for your hospitality, your friendship and your prayers!