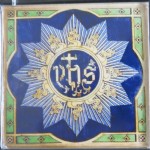 The Year of the Holy Name Fridge Magnets
A beautiful reproduction of the Tile that was produced in 1914 to mark the year of the Holy Name in the size of a Fridge Magnet is being sold in aid of Cuan an Chláir as part of their fund- raising effort to provide a new day care centre and facilities for older people.
Cost: €3 each; 2 for €5 or 5 for €10. Available from Ennis Parish Office and Friary Office.
Larger Wall Tile also available €25.