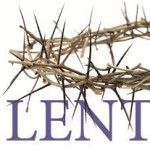 Mass will be celebrated in the following homes: in Corrovorrin each Wed evening at 7.30pm (during Lent):
March 18th:T & V Dullaghan, Corrovorrin Ave.;
March 25th: S & B O'Flaherty, Corrovorrin Gr.
 Lectio Divina, prayerful reflection on Sunday Gospels of Lent; every Thursday at 8pm in St. Joseph's Meeting Room, Kincora Pk. All welcome.
 A Spiritual Journey during Lent
There are 40 days in Lent. You are invited to do 40 Hours of Adoration or 40 Visits to the Adoration Chapel/Church over the period of Lent. Please pray especially for more vocations to priesthood and religious life during your visits.
 Lenten Reflections: A one page reflection on each Sunday Gospel called Hearing, Happening, Hoping can be downloaded from the Killaloe Diocesan website http://www.killaloediocese.ie/diocesan-news/scripture-in-lent.html.
Faith and My Life: Over the weeks of the season of Lent at the 12noon Mass in the Cathedral, we have invited people to share their experience of their Faith and its impact on living:
March 22nd:  Elber Twomey, mother and teacher whose life was changed forever by a horrific car accident at the end of a family holiday.