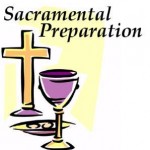 Enrolment forms for Children who are not attending Catholic schools in Ennis Parish and who wish to be prepared for the Sacraments of First Communion and Confirmation are available now in the parish Office.
Classes are held on Wednesdays 3:30pm – 4:30pm in the Parish Centre.
Enrolment for Communion classes: until Wednesday October 21st.
Enrolment for Confirmation classes: until Wednesday September 30th.
A huge thank you to the wonderful group of volunteers who prepare this group of children in the parish for these Sacraments.