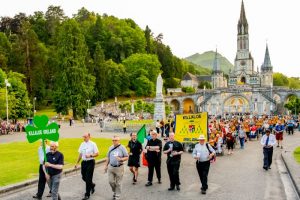 On the Killaloe Diocesan Website, Facebook & Twitter pages, videos are available for viewing of this years Killaloe Diocesan Pilgrimage to Lourdes. These videos can also be viewed in the Mercy room in the Cathedral.
The Autumn Pilgrimage leaves from Shannon Airport on Sunday 29th September – Friday 4th October. Bookings to joewalshtours.ie
Our thanks to Claire Murray, youth leader for her report on this years pilgrimage which can be read on this page.