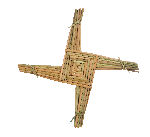 Bridget is known as Mary of the Gael and she is one of Ireland's patron saints. She was born in Faughart near Dundalk in 451 AD.
There are wells dedicated to St. Bridget, throughout the country. St. Bridget's crosses are made from rushes and placed overhead the door in many homes.
The prayer of blessing for the crosses is "May the blessing of the Father, Son and Holy Spirit be on these crosses, on where they are and on everybody who looks at them. Amen.