Parish Office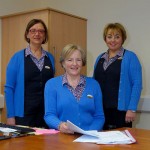 Ennis Cathedral Parish Office
O'Connell Street
Ennis
Tel: 065 682 4043
Fax: 065 684 2541
Email:
info@ennisparish.com
Office Opening Hours: 9.30am to 1.00pm, and 2.00pm to 5.00pm Monday to Friday.
Services available from the Parish Office :
– Assisting the public with their enquiries
– Weekly publication of the Parish Newsletter
– Issuing of all baptismal/confirmation & marriage certificates from Parish Registers
– Booking of Baptisms & Marriages
– Booking of Anniversary Masses / Intention Masses
– Arranging of Funerals
– Genealogy
To obtain Baptism, Confirmation and Marriage Certificates, please contact the Parish Office. Information needed: the person's name & address and the purpose for which the certificate is required. Enclose a fee of €5 plus S.A.E. for baptismal cert. Please give names of parents (including mother's maiden name) and date of birth and baptism. For marriage certificates: please indicate names of both parties & date of marriage
Sr. Betty Curtin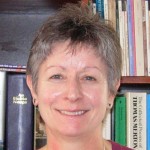 6A Watery Rd,
Ennis
Tel: 065 686 8542
Mobile: 086 371 5018

Betty is a member of the Sisters of St. Joseph. A native of Banteer in North Cork. Sister Betty has worked all of her Religious life outside of Ireland, both in Australia and Peru.
Areas Covered: Station Road, Station Court, Station View, Ardnagreine, Connolly Villas, Ardlea Road, Ardlea Close,
Cathedral Court, St. Michael's Villas, St. Michael's Villas, St. Flannan's Tce, Castlewood Park,Hazelwood, College Park, College Park, Tobartaoscain, Creggaun, Carraig Dubh, Dún An Rí, Honeywell, Ard Aoibhinn, Clare Road, Abbey Court, Westfields, Hawthowns, Bramble Lane, College View, St. Flannan's Drive, College Green, Iniscarraig, Springfield, Riverside
Fr Tom Ryan, P.P.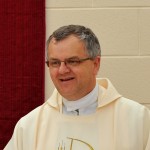 Cathedral House
Station Rd
Ennis
Co. Clare
V95 HD7X
Tel: 065 682 4043
Mobile: 087 234 9816
Email:
tfryan.ennis@gmail.com
Areas covered: Fergus Manor, Clonroad, French Park, Friar's Close, Clonroad, Meadow Court, Greendale, Park Avenue, O'Connell Street, Clare Road, Greenpark, St. Patrick's Tce, Dalcassian Avenue, Limerick Road, Turnpike Road, Turnpike Drive, Dalcassian Park, McNamara Park, Collins Park/Gallows Hill, Glengardens, Clonroadbeg, Linnane Terrace, Kilrush Road, Avondale, Maiville, Phoenix Court, Cahercalla Estate, Cahercalla Heights, Woodlands, Woodhaven, Rockmount, Rockmount Manor, Rockmount Grove, Ballybeg, Silvergrove
Fr. Joy Njarakattuvely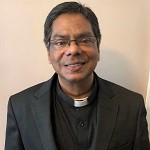 Cathedral House
Station Rd
Ennis
Co. Clare
V95 HD7X
Tel: 065 682 4043
Mobile: 089 418 6777
Email:
joynjara@gmail.com
Fr. Joy is from the Diocese of Cochin, Kerala, India. He was ordained to the priesthood on 21st February 1988 and came to serve in Ennis on 10th September 2018.
Fr. David Carroll
Tel: 065 682 2166
Mobile: 086 3467909

A native of O'Callaghan's Mills, ordained to the Priesthood in 1992. He served in many parishes across the Diocese of Killaloe. He joined the Ennis team in August 2021
Areas Covered: Sandfield, Highfield, Mountain View, College Road, Steels Tce, Marian Avenue, Rosanore, Gort Road, Gort Na Rí, Ivy Hill, Fernhill, Elm Park, Pine Grove, Glenina, Fioruisce, The Green, Lifford Road, New Road, Fergus Park, Tulla Road, Castlelawn, Fergus Lawn, Lifford Road, Kincora Park, St. Senan's, Road, Glenoir, Shannon Park, Kevin Barry Ave, Corrovorrin/Tulla Road, Francis Street. Park Row, Clonroad, Hazel Lane, Oakwood Drive
Fr. Dariusz Plasek
Cathedral House
Station Rd
Ennis
Co. Clare
V95 HD7X
Tel: 065 682 4043
Fax: 065 684 2541
Email:
parafiaennis@gmail.com
Fr. Dariusz Plasek, is in residence at Cathedral House and will provide Pastoral Care and celebrate Holy Mass for the Polish communities in the larger towns, in the diocese of Killaloe.
Polish Community Website: www.polskieduszpasterstwo.wordpress.com
Areas Covered:Abbey Street, Bindon Street, Parnell Street/High Street, Cornmarket Street, Parnell Court, Carmody Street, Buttermarket, Aherns Tce, Summerhill, Market Street, Barrack Street/Court, Cooper's Place, Considine Tce, McHugh Villas, Waterpark View, Waterpark Height/Stone Court, Ard Carraig/Drumbiggle Drive, Clancy Park, Showground Road, Cahercalla Road, Cuan an Chláir, Willsgrove, Hermitage, Orchard Lane, Circular Road, Golf Links Road/Showgrounds View, Beechpark,
Beechpark, Westwood, Pairc Na Coille