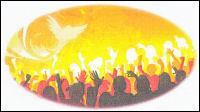 Finding New Life in the Spirit Seminar Weekend 2015  
New Pastoral Centre, (beside Ennis Cathedral) from 7.30pm Fri. May 22nd to Sun. 24th.
Inspirational Speakers: Mary Bridget Dunlea & Patricia Mitchell.
Prayer, praise, worship, teaching music, Eucharist, healing & stories of lives changed by the power of the Holy Spirit.  All are welcome.
Details from: 086 333 4153; 087 2318 580; 086 174 1358.