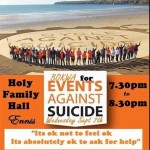 The aim of Events Against Suicide is to draw on the combined goodwill of communities all over the island of Ireland to use their skills and creativity to spread our message: it's ok not to feel ok; and it's absolutely ok to ask for help. We want to raise awareness across the 32 counties through a range of local, community-led events. In Ennis a Bokwa Dance Event has been organised in the Holy Family School Hall on Wednesday 7th of September at 7.30pm by Edel Murphy and Irene Hehir. The Dance Event will be led by Lourdes Murphy from Sparks Dance Academy and promises to be a fun, entertaining event while spreading the important message, 'It's ok not to fell ok and it's absolutely ok to ask for help.
We are inviting everyone young and old, Male and Female to come and join us for an hour of positivity. No experience required, guaranteed enjoyment from start to finish!!
More details on Bokwa for Events Against Suicide on Facebook.