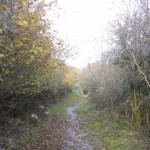 Organised by the Eire Og GAA Club in conjuction with and in aid of the Alzheimer Society Clare branch will take place on Saturday June 16th, 2018.
Walk the Rocky road to Clare Abbey and back again and enjoy a lovely family fun day.
All monies raised will be used for crucial services in the areas of Home Care, Day Care and family support group for people with Alzheimer's and their families all over Clare.
Sponsorship cards are available from the local Alzheimer office based in Cahercalla, Ennis, you can call in person or ring us on 065 6868621 for cards or information regarding the Rocky Ramble or any other information we can assist you with.
Registration on the morning of the walk will be at 11am at the Eire Og GAA club grounds, donations are most welcome at registration or by dropping it in to our office.
A big thank you to all those who support this walk each year and to new people who participate this year, without your dedication and kindness the necessary services would not be able to be delivered to people with Alzheimer's and their families.