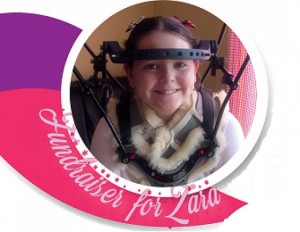 Will you walk/run 2k or 6k with the Clare team in aid of Zara Cronin's lifesaving Neurosurgery? Saturday 21st July starting 10am from Ruan Village. Entry Adult €20; Child €5.  Clare Hurling Team supporting Zara.
Life Saving Neurosurgery for Zara
10 year old Zara Cronin from Dysert, Co. Clare had a serious spinal  injury in December 2017. Her C1 dislocated from her C2. She had to wear a halo brace for months. Zara has since been diagnosed with Ehlers Danlos Syndrome (EDS) which is faulty collagen.
She must travel to Barcelona for life saving surgery (cranio cervical fusion) where they will attach her skull to her spine so that her head will stay in its proper position. Zara will not be able to move her head left or right, up or down. This surgery needs to be done urgently as it is affecting Zara's brain.
What is Ehlers-Danlos Syndrome (EDS)?
Ehlers-Danlos Syndrome (EDS) is a genetic connective tissue disorder that is caused by a defect in the structure, production or processing of collagen or proteins that interact with collagen. Collagen is kinda like your body's glue. It's what holds your skin, joints, blood vessels and other major organs in place. It typically presents itself in childhood or young adulthood with hyper-mobile joints prone to misalignment, stretchy skin that tears easily, and fragile blood vessels  prone to cardiovascular complications such as aneurysms.