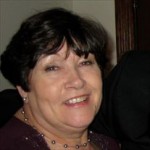 Moran, (nee O'Shea) Catherine, known to most as Bernie, 69, of River Edge passed away, surrounded by her family, on Sunday, September 3, 2017.
She was born in Clonmel, Ireland and raised in Ennis, Ireland. She moved to Texas, working as a nurse, before relocating to New York. She planned to return home to Ireland but met the man of her dreams and stayed. Bernie married Luke Moran in 1980 and lived in The Bronx, NY, before finally settling in River Edge, NJ.
Bernie is survived by her son Michael Moran, daughter Maria Sullivan and her husband Mike, granddaughters Molly and Keeva Sullivan, and sister Finnoula McManus. She is predeceased by her husband Luke, who died Monday, August 28th, brother Liam, and parents Mortimer and Ita O'Shea.
See full deaths list