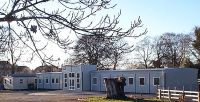 The denominational character of our school is Educate Together and the patron is the Limited Company consisting of parents, staff and supporters of the school.
The ethos of our school is Multi-denominational and in this atmosphere the moral, intellectual, social and physical growth of our pupils is nurtured.
Our school presently has 19 staff including an administrative Principal, 6 class teachers, 4 full-time resource teachers, a shared resource teacher and two special needs assistants.
Our school is co-educational, mixed class and children are taught from Junior Infants to sixth class.
Our school depends on the grants and teacher resources provided by the Dept.of Education and Science and it operates under the Rules for National Schools, the Education Act 1998 and within the regulations laid down by the Department.
Our school follows the curricular programmes prescribed by the Dept. of Education and Science.
Our school supports the principle of:
Inclusiveness, particularly with reference to the enrolment of children with a disability or other special educational needs;
equality of access and participation in the school;
parental choice in relation to enrolment;
respect for the diversity of values, beliefs, traditions, language and ways of life in society.