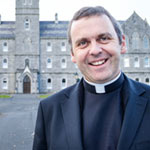 Principal: Fr. Ignatius McCormack
Deputy Principal: Donal Cahir, Michael McInerney, Ms. Gráinne Lynch
St. Flannan's College, Ennis,
Co. Clare, V95 Y102
Phone: +353 65 682 8019
Email:
stflannans@eircom.net
Website:
www.stflannanscollege.ie
St. Flannan's College is a Catholic voluntary secondary school operating under the patronage of the Diocese of Killaloe. It is run by a lay principal, under the supervision of a Board of Management, and with the active involvement of a clerical president who represents the interests of the Diocese.
St. Flannan's is a co-educational college, catering for boys and girls preparing for the Certificate examinations, for which it is involved in a range of programme options. Outside the formal academic cycle, the College hosts a wide variety of extra-curricular activities, ranging from debating and public speaking to the various sporting codes, and field and track athletics.
One of the oldest secondary schools in the mid-west, St. Flannan's has played a distinguished role in education over the past one hundred and fifty years. Its community takes great pride in its history and traditions.