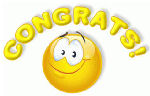 Congratulations to all Leaving Cert Students and especially those with mental, physical disabilities or any other illness who have achieved their leaving cert. This exam puts huge pressure on any student. The pressure on anyone with an illness is even more; with support and good faith it is possible. A piece of paper does not measure anyone's intellectual ability.
________________________________________________________________________________
Mol an óige agus tiocfaidh sí (seanfhocal)
Fógraíodh torthaí na hArdteistiméireacht i rith na seachtaine. D'éirigh go geal lena bhformhór ach bhí roinnt eile díomách a bheag nó a mhór. Mo ghraidhin sibh! Ná bíodh lagmhisneach oraibh faoi. Níl ann ach iontas seachtaine ag mór chuid an tsaoil. Comhghairdeas libh go léir. Is é an rud is tábhachtaí ná go mbeidh beannacht Dé libh gach lá de bhur saol agus mar sin guímis ar bhur son sa phaidir seo:
Go dtreoraí an Spiorad Naomh
A gcoiscéim, a gcosáin
A gcroíthe agus a gcúraimí
Anois agus go deo. Áiméan.
Praise the young and they will blossom (proverb)
Congratulations to the Leaving Certificate students who received their results during the week. Some were very pleased while others were a little disappointed. This does not matter as the results are only a seven day wonder. Congratulations to all. The most important thing is that you will have God's blessing during your lives. We pray on your behalf:
May the Holy Spirit direct
Their footstep, their paths
Their hearts and their needs
Now and always. Amen