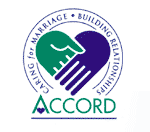 This year ACCORD Catholic Marriage Care Service, marks the 50th Anniversary of the
 founding of the first Accord centre in Ireland.ACCORD Ennis Centre, situated at Harmony Row, aims to promote a deeper understanding of Christian Marriage and to offer people the means to safeguard and nourish their relationships.
ACCORD provides Marriage Preparation Courses for couples preparing for Marriage. The ACCORD course is now the prescribed course for couples getting married in the church.
In 2011, ACCORD Ennis Volunteers, facilitated courses for 260 people, preparing for the sacrament.
If you are getting married this year or in 2013, book now at (065) 6824297 or at www.accord.ie .
ACCORD also provides a safe, professional and confidential Marriage / Relationship Counselling service for couples and individuals, experiencing difficulties in their marriage relationship. In 2011 ACCORD Counsellors in Ennis, delivered 630 counselling hours, facilitating couples and individuals to explore and resolve difficulties in their marriage relationship.
Access to ACCORD Counselling is based on the needs of the individual as opposed to their ability to pay.
To book an appointment with a Counsellor, call ACCORD Ennis in complete confidence: (065) 6824297 / Lo-call 1850 58 5000.