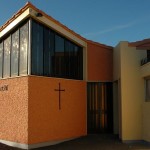 | | |
| --- | --- |
| Monday - Friday | 9.30am |
| Sunday | 11.00am |
The Church of Christ the King (Críost Rí) that was opened in 1978 to serve the growing population in the Cloughleigh area of the town is one of the smallest churches in the parish.
The church, home to a wonderful community of believers, generates a sense of belonging and togetherness.  Because of its size there is a greater involvement on the part of the people, a feature that both provides for and fosters a place of prayer, welcome and peace. During the week, mass is celebrated at 9:30 every morning, Monday to Friday and all are welcome to come and join us in prayer. On Sunday we invite you to join us at 8am & 11am for Eucharist.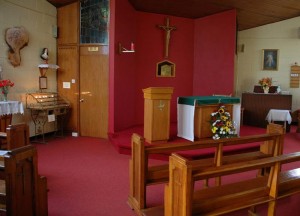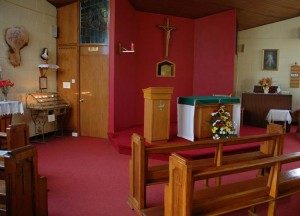 On entering the Oratory one is immediately impressed by the beautiful stained glass windows. An example  of these windows are the "Hands joined in harmony and peace" This stained glass panel which was fitted in 1999 to mark 21 years, has been adopted as the emblem of the community.  Four hands of different colours, with two hands clasped in friendship, are symbols for us of the reconciled world, where all people live in peace and harmony.   In Cloughleigh, we the people want this to be a sign of our welcome and openness to all.  This symbol was used by Bishop Walsh to express forgiveness and friendship, during his Diocesan Pilgrimage of Reconciliation (Advent 1999).
Enquires relating to Liturgical events Fr. Ger  Jones 065 6797489