The Sisters of St. Joseph were founded by Blessed Mary MacKillop and Fr. Julian Jenison Woods. Mary MacKillop was born in Melbourne on the 15th January 1842 and died in Sydney on the 8th August 1909. The years between saw one of Australia's most remarkable women demonstrate incredible strength, devotion, inspiration and absolute trust in God.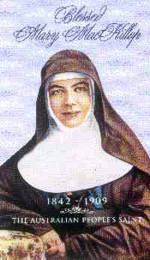 On her return from Rome, where she went to have the Constitutions approved, she was accompanied by fifteen young Irish women who were keen to work with Mary on the Australian mission.
After that many others followed and a house of studies was set up at Newmarket, Co.Cork, where many young women were educated before going to Australia.
Three of these Sisters, Anne Boland from West Clare, Eileen O'Sullivan from West Limerick and Betty Curtin from North Cork  have come back to Ireland and are now working in the parish of Ennis. The charisma of the Sisters of St. Joseph is to be with the people upholding their dignity:
To be a meeting place where God can bring life to the people
To be with those who are isolated for whatever reason
To be leaven among God's people to encourage and affirm them
Anne is a member of Ennis Parish Team and is also involved in pastoral Ministry in the parish. Contact No – 065 684 4742.