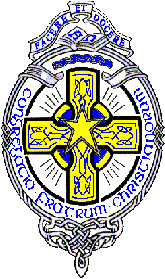 In 1826 Bishop O'Shaughnessy requested Br. Edmund Ignatius Rice to send Brothers to Ennis and in January 1827 two Brothers, Jerome O'Connor and Ignatius Barry arrived and set up their first school in an old corn store. Later they moved to Chapel Lane. In1833 they moved to Newtown Stacpoole where a new building had been erected and where the old section of the present Primary school still stands.
In 1840 the Brothers withdrew from Ennis but returned again in October 1854 at the request of Fr. John Kenny P.P. following the Jesuit Mission to the parish in 1853. In August 1868 the foundation stone of the present Monastery was laid and the Brothers moved from what Dean Kenny described as "a miserable thatched cabin" to take up residence in December1869.
In 1882 pupils of Ennis CBS were entered for the Intermediate Board examinations and appear on the Intermediate lists. In 1937 the Secondary school building was completed. There are at present c.1,100 pupils on roll between the Primary School and Rice College.
Back to top
Na Bráithre Críostai in Inis:
Sa bhliain 1826 thug an tEaspag Ó Seachnasaigh cuireadh don Bhráthair Éamann Iognáid Rís Bráithre a chur go hInis agus i Mí Eanair tháinigh beirt Bhráthair, Iaróm Ó Conchúir agus Iognáid De Barra. Chuireadar scoil ar bun i sean stór arbhair. Go gairid ina dhiaidh sin d'aistrigh siad go dti Lána an tSéipéil.
Sa bhliain 1833 d'aistrigh siad go foirgneamh nua i Newtown Stacpoole, áit a bhfuil an sean-chuid den Bhunscoil suite anois. Sa bhliain 1840 d'fhág na Bráithre Inis ach d'fill siad i nDeireadh Fómhair na bliana 1854 le cuireadh ón Sagart Paróiste, an tAthair Seán Ó Cionnaith, tar éis Misean na nÍosánach sa Pharóiste sa bhliain 1853. I Mí Lúnasa 1868 leagadh bun chloch na Mainistreach agus d'aistrigh na Bráithre ó "bhothán suarach ceann tuí" go dtí an Mhainistir nua i Mí na Nollag 1869.
Sa bhliain 1882 cuireadh daltaí ó Scoil na mBráithre in Inis isteach ar scrúdúcháin an 'Intermediate Board' agus d'éirigh leo bheith ar na liostaí. Sa bhliain 1937 críochnaíodh foirgneamh nua don Mheánscoil. Tá timpeall 1,100 dalta ar na rollaí faoi láthair idir an Bhunscoil agus Coláiste an Rísigh.