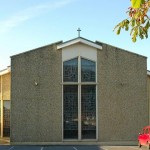 | | |
| --- | --- |
| Monday – Friday | 10.30am |
| Saturday | 10.30am, 7.00pm |
| Sunday | 10am, 11.45am |
| | |
St. Joseph's is situated in the "west end" of Ennis, on the road that links the Galway road to the Tulla road. The church was built in 1972 and is unique in that it is attached to St. Joseph's Community Hospital, giving the residents and patients valuable access to regular parish life. The church has a capacity of 500 people with a floor plan that affords excellent visual contact between Sanctuary and Congregation.
Inside St. Josephs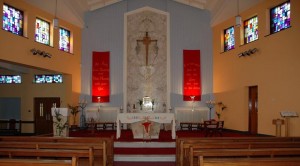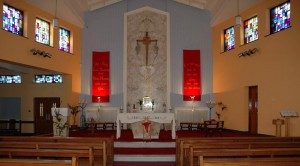 The patients in St. Joseph's Hospital receive the Sacrament of the Anointing and Holy Communion on the 2nd. Thursday of the month, following 11.00am Mass.  They also receive Holy Communion at the 10am Mass on Sundays and once again during the week, facilitated by Ministers of the Eucharist in St. Joseph's Church.
Icon of St. Joseph & the Child Jesus;  Iconographer:  Solrun Nes;  The white lily is a symbol for purity, innocence and peace.  The doves represent the turtledoves, which Mary and Joseph brought as sacrifice for the presentation of the Child Jesus in the temple.  Joseph turns his head slightly towards the child, but his gaze is nevertheless on us.